The Philharmonic Chorus of Tokyo (TOUKON)
What's TOUKON?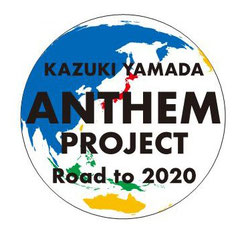 TOUKON is Kihara's musical home base. Kihara became TOUKON's Principal Conductor in 2019, joining its founders and celebrated conductors, Nobuaki Tanaka and Kazuki Yamada, in leading Japan's premier choral group.
We invite you to come and experience TOUKON!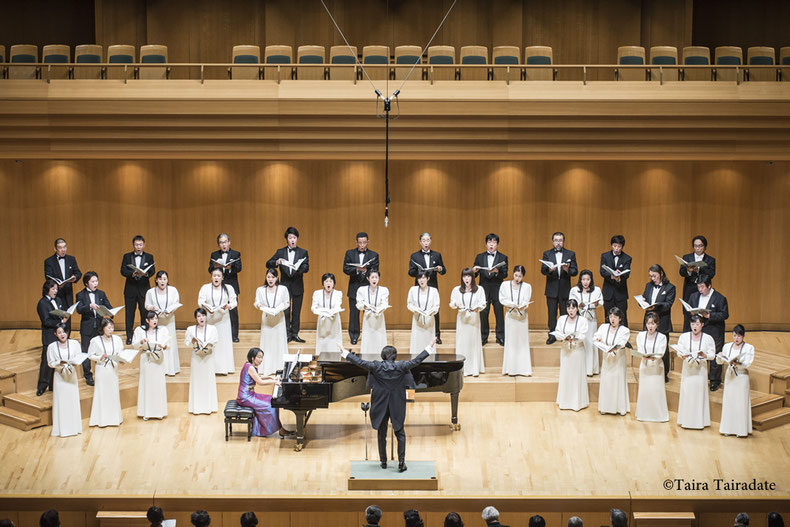 The Philharmonic Chorus of Tokyo(TOUKON)
TOUKON is the official moniker for The Philharmonic Chorus of Tokyo. As Japan's most revered professional chorus company, TOUKON has led the country's choral music scene since its inception in 1956. TOUKON features more than 30 members selected through rigorous auditions, who perform wide-ranging choral works from the Renaissance to the Contemporary in various languages. Many of their performances also include pieces from the more than 200 original choral works TOUKON has commissioned over the past six decades. TOUKON's quality performances have attracted such esteemed musical figures as Herbert von Karajan and Seiji Ozawa to take the baton to create exceptionally memorable and entertaining collaborative shows. TOUKON performs more than 100 times annually, including quarterly subscription concerts, special concerts, family concerts, collaborative performances with professional opera, oratorio and other renowned ensembles, and recordings for movies, television and various other broadcast programs. 
Especially, TOUKON collaborated with two prominent musicians, Nobuaki Tanaka and Kazuki Yamada, who currently serve as TOUKON's conductor laureate and musical director respectively. TOUKON has since provided people of all ages and backgrounds with opportunities to enjoy music. TOUKON regularly hosts concerts at major venues, such as Suntory Hall and Tokyo Bunka Kaikan. In 2019, TOUKON will host its 250th subscription concert. TOUKON has also performed overseas, and has received numerous awards and recognitions. 
TOUKON'S strength is in its diverse group of accomplished performers. Their unique individual talents come together to conjure musical magic in concerts, including collaborative performances with the world's most celebrated musicians, opera and choral companies and orchestras. 
Notable maestros who have performed with TOUKON include:  
Herbert von Karajan, Claudio Abbado, Zubin Metha, Seiji Ozawa, Myung-Whun Chung, Christopher Hogwood, Paul Hillier, Valery Gergiev, Vladimir Fedoseyev, James Wood,
Tugan Sokhiev, Susanna Mälkki, Denis Dupays, Georg Christoph Biller, Edward Gardner,
Fabio Luisi, Jakub Hrůša, Charles Dutoit, Giuseppe Sabbatini, Pascal Rophé, Tadashi Mori, Hiroyuki Iwaki, Tadaaki Otaka, and Ryusuke Numajiri. 
Notable orchestras that have performed with TOUKON include:
Wiener Philharmoniker, Berliner Philharmoniker, Boston Symphony Orchestra, Orchestre National des Pays de la Loire (ONPL), Orchestre Philharmonique de Monte-Carlo,
NHK Symphony Orchestra, Tokyo Metropolitan Symphony Orchestra,Yomiuri Nippon Symphony Orchestra, Tokyo Philharmonic Orchestra, and Nagoya Philharmonic Orchestra. 
Overseas tours
TOUKON has toured various countries, including the U.S., Canada, France, Sweden, Belgium, Finland, Latvia, Estonia, the Principality of Monaco, China, Indonesia, Malaysia, the Philippines, Singapore and Thailand. In Russia, TOUKON performed in Mstislav Rostropovich International Festival 2017. 
Composers commissioned by TOUKON to produce original choral pieces include:
Toru Takemitsu, Einojuhani Rautavaara, Murray Schafer, Dai Fujikura, Ryuichi Sakamoto, Toshio Hosokawa, Atsuhiko Gondai, Toshiro Mayuzumi, Akira Miyoshi, Toshi Ichiyanagi, Junji Mitsuishi, Shin-ichiro Ikebe, Akira Nishimura, Joji Yuasa, and Lachlan Skipworth.
Awards TOUKON has received over the years include:
Suntory Music Award, Kenzo Nakajima Music Award, Mainichi Geijutsu Award, Kyoto Prize and Arts and Philosophy (music category), Record Academy Award, and The National Arts Festival Award.